The green Easter menu 2015
Ms Aitch and Mr El are exited. Their first menu. For Easter. It should be light and fresh because that's good after the period of fasting. They make a green Easter menu. Green like the spring salad with dandelion and horned violets from the YOK-Garden. Green like the wild garlic crust on the rack of lamb with its delicious flavor. Green like the leeks in the creamy polenta. And green like the peppermint-honey-sauce which is a freshness boost.
With this menu Ms Aitch and Mr El wish you all happy and culinary Easter!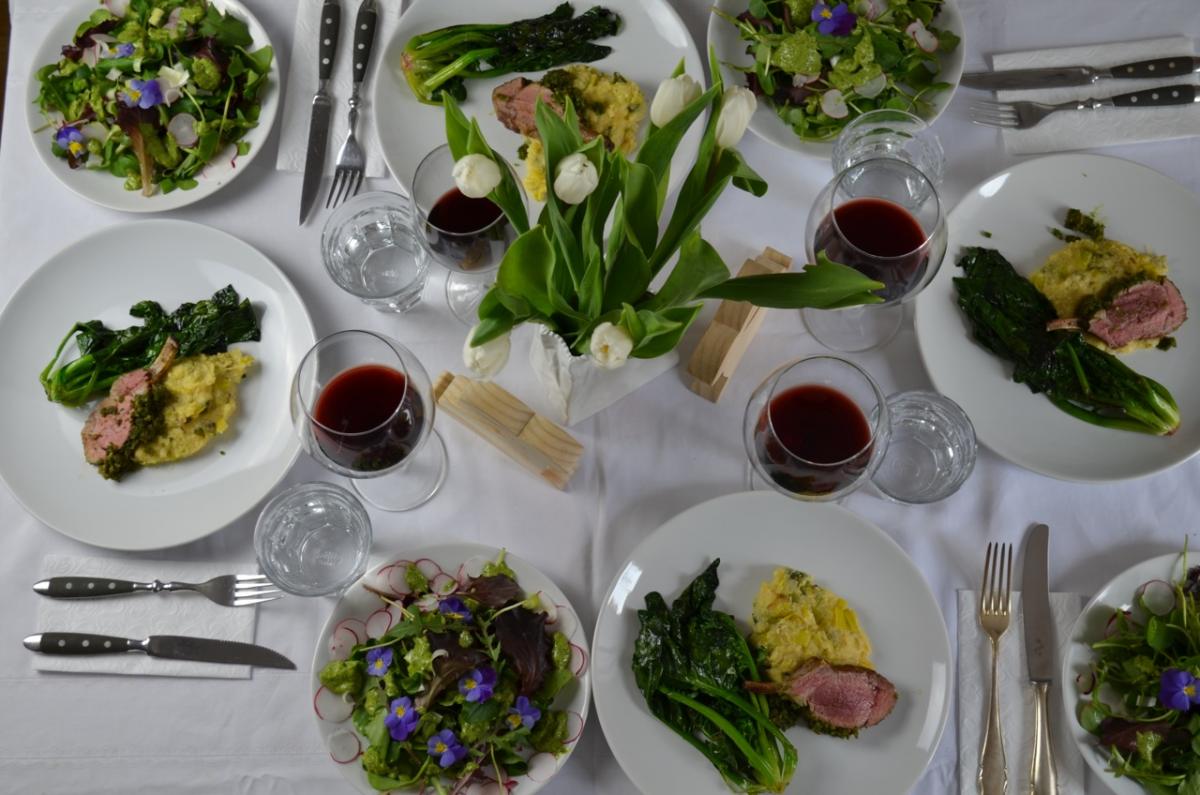 Ingredients
For 4 persons
starter:
spring salad with herbs-mustard-dressing
main dish:
rack of lamb with a wild garlic crust, polenta with leek and spinach
1 rack of lamb (500g) 
For the crust:
1/2 bunch of wild garlic
6 tbsp breadcrumbs
7 tbsp olive oil
3 tbsp grated Parmesan cheese
salt and pepper
400g fresh spinach
2 garlic cloves
dessert:
panna cotta with peppermint-honey-sauce
For the sauce:
1 bunch of peppermint (chopped)
1 tbsp honey
3 tbsp grape seed oil
juice of 1/2 lime
peppermint leaves and horned violet flowers to sprinkle
Instructions
First you have to make the panna cotta. Best is doing it the night before at the latest 4,5 hour before the menu starts.
Wash the salads, mix the dressing, grate the radishes and dice the scallions.
For the crust chop the wild garlic and blend it with olive oil until smooth. Add breadcrumbs and Parmesan cheese and season with salt and pepper.
Cook the polenta and sweat the leeks. Meanwhile blend the peppermint with honey, oil and lime juice, if need add a little bit of water.
Wash and drain the spinach. Crush 2 garlic cloves.
Preheat the oven to 220°C (top-/bottom heat).
Place the salad on 4 plates and spread with radishes, scallions and edible flowers. Pour the dressing over the salad and serve it.
Sear the rack of lamb well on all sides, put it in a buttered casserole and cover with the wild garlic crust. Slide it into the oven for 10 minutes. Meanwhile warm up the polenta and roast the spinach with garlic in a pan and season with salt and pepper. Then serve it.
After the main dish you have to remove the panna cotta from the tin with a knife and turn over onto a plate. Pour the sauce around and decorate with peppermint leaves and horned violet flowers.
Wollt ihr noch mehr?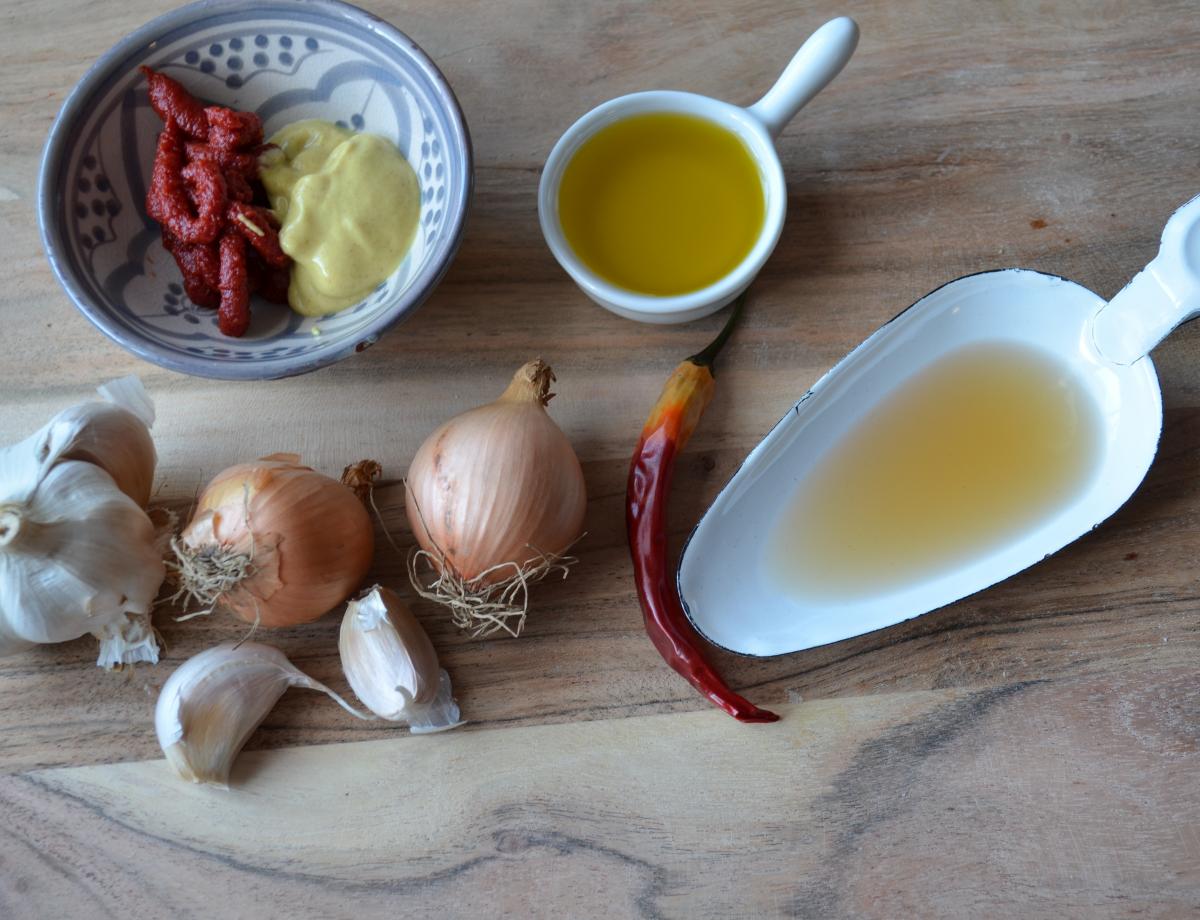 Mr El lost the thread. He wanted to make a barbecue sauce but he could not focus today....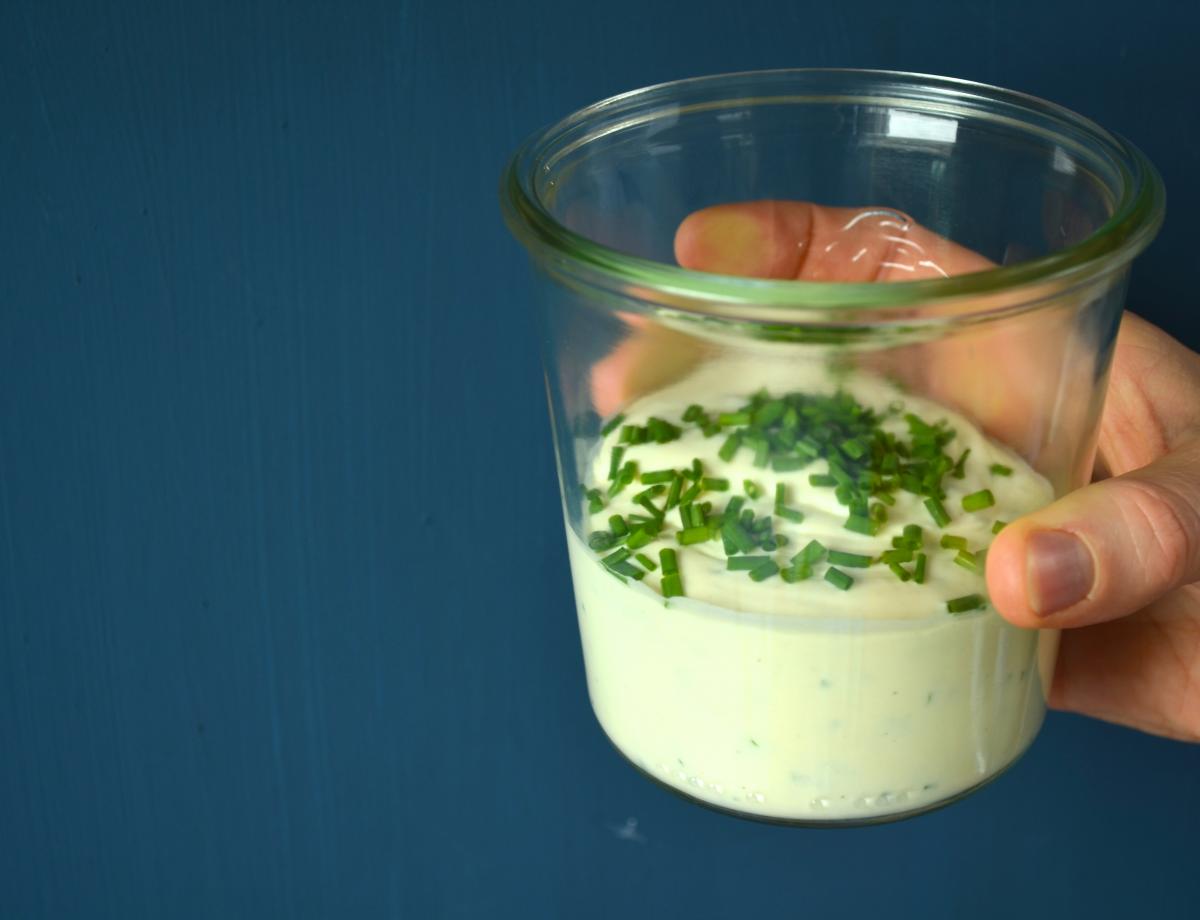 Ms Aitch brought this recipe from her mother into Ye Olde Kitchen....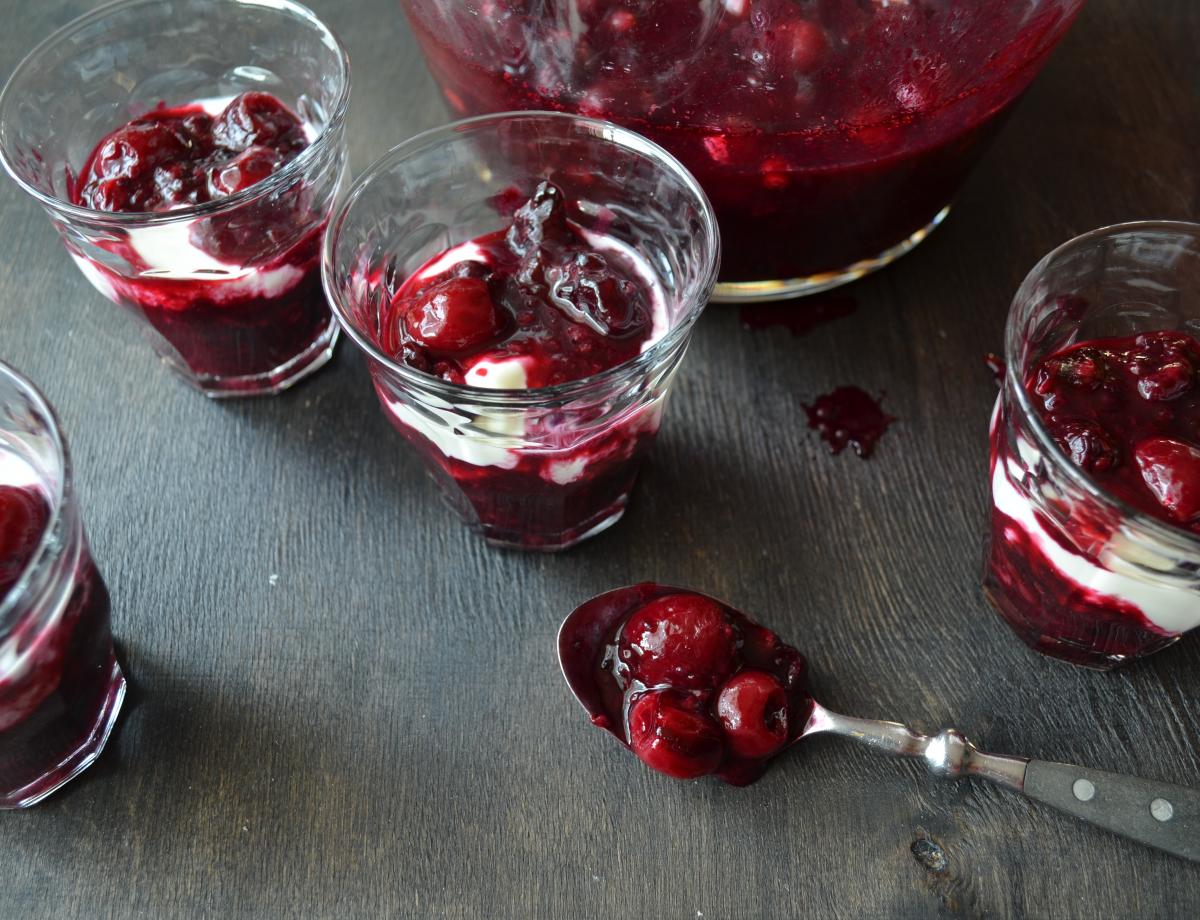 Red fruit jelly as a dessert is straight childhood memory. Ms Aitchs mother like to cook red...